---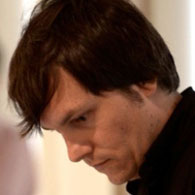 Doug Van Nort
Assistant Professor, Digital Media Program, Department of Theatre
personal website
Doug Van Nort is an artist, researcher, composer and performer. His work is concerned with issues of performance and sensorial immersion in technologically-mediated environments. He holds a particular interest in affective and visceral experiences of the sonic and haptic senses, the complex and embodied nature of listening, and the phenomenology of time consciousness. In this context, Van Nort examines improvisation as an important site of investigation and model of creative, social exchange. He creates works that integrate improvisation and collective performance with machine agents, interactive systems and experiences of telepresence. Van Nort regularly presents this work internationally, and recent projects have spanned telematic music compositions, transforming an elevator into an electroacoustic sculpture, interactive textiles, developing machine improvisation systems, interactive music composition for a dance piece based on muscle sound, and performing sonified data streams from NASA's Kepler mission. This work is informed by his background in mathematics, media arts, music composition and performance, and draws upon disparate areas ranging from perception and cognition, systems theory, performance studies, cybernetics, machine learning, signal processing and various forms of ritual.
As a performer specializing in truly improvised electroacoustic music, over the past decade Van Nort has developed his own digital systems for performance that assume a turntable-like, sculptural approach to shaping sound using his hands and voice. He often performs solo as well as with a wide array of artists across musical styles and artistic media. Ongoing collaborations include the trio Triple Point with Pauline Oliveros and Jonas Braasch as well as a duo with underground noise legend If, Bwana; he also participates as a member of the Composers Inside Electronics, founded by the late David Tudor. In recent years he has performed and recorded with dozens of artists including Francisco López, Stuart Dempster, Chris Chafe, Kathy Kennedy, Ben Miller, Alessandra Eramo, David Arner, Anne Bourne, Eric Leonardson, Judy Dunaway, Katherine Liberovskaya, Carver Audain, Paul Hession, Jefferson Pitcher, Jonathan Chen, and in Sarah Weaver-conducted ensembles alongside the likes of Gerry Hemingway, Min Xiao-Fen, Ray Anderson, Miya Masaoka, Franz Hackl, Mark Helias and Dave Taylor among many others. He has performed his work at a range of venues including the [SAT] and Casa del Popolo in Montreal, on WNUR in Chicago, Casa da Musica in Porto, Betong in Oslo, Cafe OTO in London, Skolska28 in Prague, Liebig12 and QuietCue in Berlin, The Red Room in Baltimore, Studio Soto in Boston, The Guelph Jazz Festival, Roulette, Harvestworks, the Flea Theatre, Socrates Sculpture Park, the New Museum, the Miller Theatre, Issue Project Room and the Stone in NYC, at Town Hall (NYC) on an 'intonarumori' as part of the Performa futurist biennial, at EMPAC in Troy, NY, at the International Conference on Auditory Display (ICAD), New Interfaces for Musical Expression (NIME), as part of the legendary Phil Niblock-curated 'festival with no fancy name' at Experimental Intermedia, at the NYC electroacoustic music festival and many other festivals and events across the U.S. and Europe.
His creative/research work has been supported and recognized by disparate sources including the NY Foundation for the Arts (NYFA), the NY State Council for the Arts (NYSCA), the National Science Foundation (NSF) and the International Computer Music Association (ICMA).
Recordings of Van Nort's music can be found on Deep Listening, Pogus, Zeromoon, MIT Press and Attenuation Circuit among other experimental music labels. In late 2014 a Triple Point 3-CD set, released on Pogus Productions, was produced (edited, mastered, designed) by Van Nort. It has drawn praise such as: "Electroacoustic improvisation has the potential to be a music of timbral complexity, of rapid shifts of sound colors within a multi-layered environment...Triple Point lives up to that potential, as would be expected from such a fine assembly of improvisers….Each has a distinctive voice, but the group's sound is a genuinely collective, emergent object in its own right." (Daniel Barbiero, Avant Music News). In a scholarly vein, Van Nort's writing has recently appeared in Organised Sound, the Computer Music Journal, the Leonardo Music Journal, Kybernetes and the Journal of the Acoustical Society of America. He has also published in a variety of international conference proceedings, and was given the Best Paper Award at the 2010 International Computer Music Conference (ICMC). As a teacher, in recent years Van Nort has led workshops, seminars and courses that are designed towards enhancement of listening and creativity through a mixture of bodywork, breathing/sounding/listening exercises, and the use of analog/digital electronics as a shared medium for these collective experiences. These events leverage Van Nort's experience of Deep Listening (certificate holder) and his life as a practitioner of electroacoustic composition/improvisation and sound-focused art/research.
Previously, Van Nort was a research associate and instructor in music and media at Rensselaer Polytechnic Institute, where he conducted research as a core member of an NSF-led project on telepresence and machine improvisation while teaching courses in electronic arts and architecture related to telematic music, improvisation, immersive environments, listening and sound. Van Nort then moved to Montreal for a prestigious Banting Fellowship at Hexagram / Concordia University, actively collaborating with media artists, performers and scholars as an affiliate of the Topological Media Lab. Van Nort is currently Assistant Professor of Digital Performance at York University, associated with the departments of Theatre and Digital Media. He also works as an Assistant Editor for the Computer Music Journal (MIT Press).
---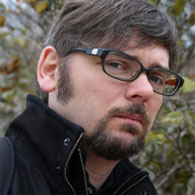 Dr. Graham Wakefield is an artist-researcher whose contributions include both scholarly research and the creation of works of art. His research-creation is founded upon a trans-disciplinary academic training in interactive art, music, virtual/augmented reality, mathematics and philosophy, partnered with extensive professional practice in software engineering for creative coding in audio-visual, interactive and immersive media.
Dr. Wakefield is an internationally exhibited artist of immersive and mixed-reality art installations, including a series of artificial natures since 2007. These artworks present experiences of nature as it could be, through interactive worlds in which participants become one more component of an ecosystem, linking the generative open-endedness of biology and computation through aesthetic experience. They have been exhibited in numerous venues and events internationally including La Gaîté Lyrique, Paris, and have been recognized in peer-reviewed publications as well as organizations such as SIGGRAPH and VIDA.
Drawing upon creative and experiential philosophies, Dr. Wakefield's research is committed to a view of computation as a shared medium of creative, embodied experience, and an agenda of sharing contributions to advance the digital art and creative coding communities. As an integral researcher in UC Santa Barbara's AlloSphere, creating immersive, interactive multi-screen artworks and scientific visualizations for a unique 3-storey spherical multi-user virtual reality instrument, Dr. Wakefield developed creative coding software for worldmaking that not only forms the foundation for most projects in the AlloSphere today, but is also widely used beyond including by internationally-renowned artists. Through his doctoral work Dr. Wakefield extended the widely-used media art software Max/MSP/Jitter by co-authoring a new workspace called Gen. Introduced in 2011 it now has tens of thousands of users, and is lauded by many respected artists and musicians while also being utilized within industrial design labs and incorporated into courses at several major universities.
Dr. Wakefield's research is documented in numerous leading conferences, including a best paper award at NIME 2013, journals including IEEE Computer Graphics & Applications, International Journal of Human-Computer Studies and Computer Music Journal, in addition to popular texts such as O'Reilly's Beautiful Visualization.
---