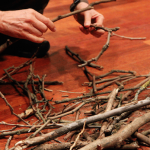 Lecture: Bioacoustics Research with Ann Warde
4:00 - 5:30 PM
Thursday, November 10, 2016 @ DisPerSion Lab, 334 Goldfarb Centre for Fine Arts, YorkU

Please join us for this special lecture by Ann Warde, a long-time associate of Cornell University's Bioacoustics Research Program!
Scientific Listening
Science embraces acoustics as a way to understand the behavior and communication strategies of animals. However, because of differences between the perceptual scales of human observers and very large, or very small, animal species (whales and crickets, for instance), even the seemingly simple act of determining the source of a sound can be daunting. Our direct perception of the sound (as an alternative to acoustic measurement) can facilitate its translation from a much larger or smaller scale of perception into our own. Can a musical listening also enlighten us scientifically?
There will be time for Q&A and discussion following the lecture.
About the Presenter
Ann Warde is a composer and researcher, currently exploring ways to listen for spatial patterns and sonic characteristics in animal sound recordings. Formerly an analyst and computer programmer at Cornell University's Bioacoustics Research Program, she was recently a Fulbright Scholar at the Contemporary Music Research Centre, University of York, England. Her study and practice of electro-acoustic music composition and ethnomusicology has led to performances and presentations throughout North America, and most recently in Britain and Belgium. www.zsonics.org