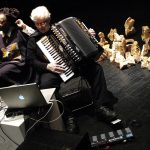 Pauline Oliveros & Ione
2016 Wendy Michener Lecture and Evening Performance
Friday, October 14, 2016 @ YorkU and The Music Gallery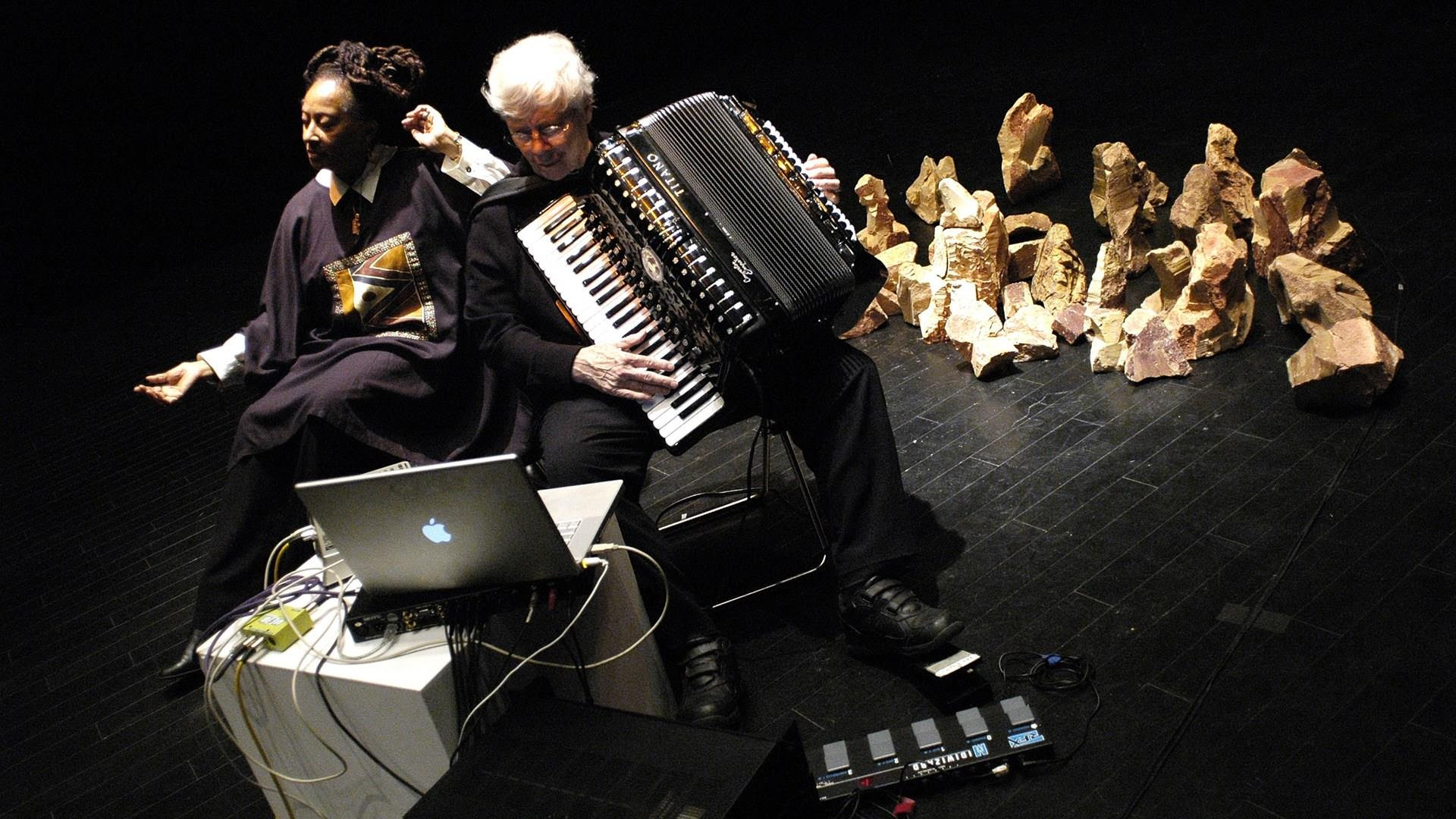 2016 Wendy Michener Lecture: PAULINE OLIVEROS & IONE
Friday, October 14
11am-1pm
Tribute Communities Recital Hall
Accolade East Building
York University
Sponsored by the Sensorium, The DisPerSion Lab, The Music Gallery, and The Wendy Michener Lecture.
For the 2016 Wendy Michener Lecture, Sensorium and the DisPerSion Lab in AMPD partner with Toronto's Music Gallery to present two legendary mavericks of the experimental music and arts scene.
The lecture begins with PAULINE OLIVEROS, a seminal figure in contemporary American music whose career spans fifty years of boundary-dissolving music-making. Pauline will discuss her life practice of Deep Listening, which has blossomed into an international community of certified practitioners, artists and scholars. She will discuss a recent project, Sensational Sounds for hearing and non-hearing performers, which brings together hearing and nonhearing performers in ensemble performance, utilizing new instruments built for this context.
Pauline will then be joined by IONE, a noted author, playwright, director and poet whose works include the critically acclaimed memoir, Pride of Family Four Generations of American Women of Color, Listening in Dreams and This is a Dream! Pauline and Ione will discuss their current work in progress, a mixed reality opera titled The Nubian Word for Flowers. Engaging an international team of collaborators and cutting-edge technology, this major work immerses the audience in a mythology that spans from Lord Kitchener and his namesake Ontario town to the Nubian people of the Nile River.
A Q & A session will follow the lecture.
This Wendy Michener Lecture is part of the programming for the Music Gallery's X-Avant Festival. As a sister event to the lecture, the festival will also present an evening improvised quartet performance featuring Pauline Oliveros (v-accordion), Ione (spoken word), Anne Bourne (cello) and Doug Van Nort (electronics). The performance takes place Fri. Oct. 14 at 7pm at The Music Gallery, 197 John St.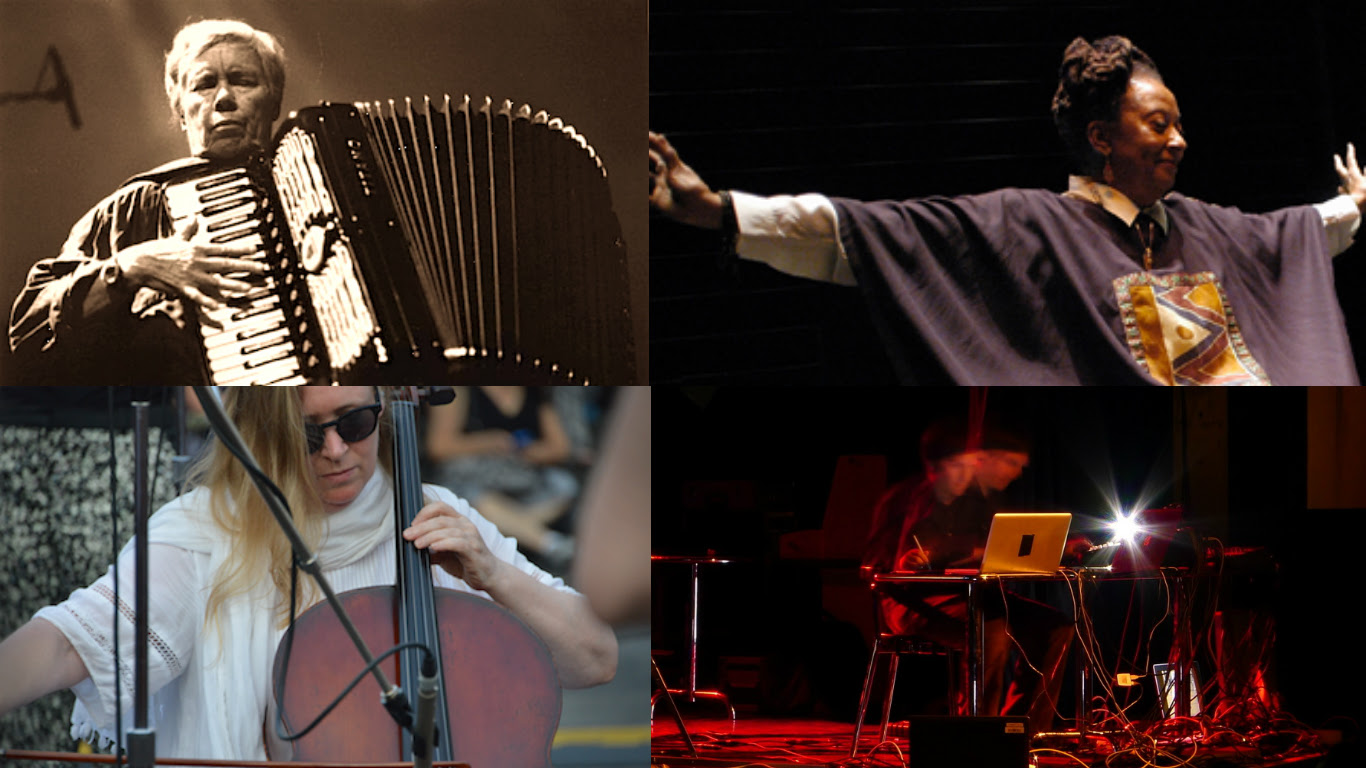 X-Avant Festival Presents: An Electro-Acoustic Quartet Improvisation Featuring Pauline Oliveros (v-accordion) / Ione (spoken word) / Anne Bourne (cello) / Doug Van Nort (electronics)
Friday, October 14
Doors: 7pm | Concert: 8pm
The Music Gallery, 197 John St.
Tickets: $20 Regular | $10 Members/Students |$15 Advance at musicgallery.org
Friday's performance is a multichannel, improvisational performance in a rich yet spacious combination of the newest directions of each contributor's artistry. In recent years, Oliveros has taken to performing with a Roland digital accordion that has extended her sonic range. Her partner Ione improvises text/sound art, while Anne Bourne, herself a crucial contributor to the Music Gallery over several decades, deploys her sublime experiments in cello. Doug Van Nort captures and transforms acoustic signals from his collaborators and own voice, improvising beautiful electronics diffused over 8 speakers.
These two events are presented in collaboration with the Music Gallery by the Sensorium Centre and the DisPerSion Lab of York's School of Arts, Media, Performance & Design, with gracious support from the Wendy Michener Lecture series.
About the Artists:
Pauline Oliveros, an internationally acclaimed composer, performer and humanitarian, is a leading pioneer in American music. For four decades she has explored sound -- forging new ground for herself and others. Through improvisation, electronic music, ritual, teaching and meditation she has created a body of work with such breadth of vision that it profoundly effects those who experience it and eludes many who try to write about it. "On some level, music, sound consciousness and religion are all one, and she would seem to be very close to that level," stated John Rockwell.
Oliveros has been honored with awards, grants and concerts internationally. Whether performing at the John F. Kennedy Center in Washington D.C., in an underground cavern or in the studios of a West German radio station, Oliveros' commitment to interaction with the moment is unchanged. She can make the sound of a sweeping siren into another instrument of the ensemble.
Through Deep Listening Pieces and earlier Sonic Meditations, Oliveros introduced the concept of incorporating all environmental sounds into musical performance. To make a pleasurable experience of this requires focused concentration, skilled musicianship and strong improvisational skills, which are the hallmarks of Oliveros' form.
In performance, Oliveros uses an accordion which has been re-tuned in two different systems of her just intonation in addition to electronics to alter the sound of the accordion and to explore the individual characteristics of each room.
Pauline Oliveros has built a loyal following through her concerts, recordings, publications and musical compositions that she has written for soloists and ensembles in music, dance, theater and inter-arts companies. She has also provided leadership within the music community from her early years as the first director of the San Francisco Tape Music Center (now the Center for Contemporary Music at Mills College), director of the Center for Music Experiment during her 14 year tenure as professor of music at the University of California at San Diego to acting in an advisory capacity for organizations such as The National Endowment for the Arts, New York State Council for the Arts and many private foundations. She now serves as Distinguished Research Professor of Music at Rensselaer Polytechnic Institute and Darius Milhaud Composer in Residence at Mills College. Oliveros has been vocal about representing the needs of individual artists, about the need for diversity and experimentation in the arts, and promoting cooperation and good will among people.
Ione is an author/playwright/director and an improvising text/sound artist. Her works include the critically acclaimed memoir, Pride of Family; Four Generations of American Women of Color, Nile Night, Remembered Texts from The Deep, Listening in Dreams & This is a Dream! She is playwright and director of Njinga the Queen King, (BAM's Next Wave Festival) the dance operaIo and Her and the Trouble with Him (Union Theater, Wisconsin), The Lunar Opera; Deep Listening For_Tunes, (Lincoln Center Out of Doors) and the experimental narrative film Dreams of the Jungfrau, shot high in the Swiss Alps. All feature music and sound design by Pauline Oliveros. Ione and Oliveros are currently collaborating with Egyptian artists on The Nubian Word for Flowers, A Phantom Opera. Inspired by the Nubian diaspora and the life of Lord Horatio Herbert Kitchener of Khartoum, the opera is "a deep dream exploration of the colonial mind".
Ione is the founding director of the Ministry of Maåt, Inc ( MoM, Inc) and former artistic director of Deep Listening Institute, Ltd. She is a Deep Listening Certification Instructor, Center for Deep Listening, Rensselaer, Troy, NY.
About the Presenters:
Sensorium: Centre for Digital Arts and Technology is a research centre based in York University's School of the Arts, Media, Performance & Design that supports cross-disciplinary work in application and content creation, artistic and scientific inquiry, policy development and critical discourse in digital media arts.
The DisPerSion Lab (DIStributed PERformance and Sensorial immersION), founded in AMPD by Doug Van Nort in 2015, is dedicated to research-creation projects which examine questions surrounding instrumental and gestural expression, embodied perception, time consciousness and performative agency in the context of envisioning new forms of interdisciplinary creative practice. The lab space is defined by an environment suffused with reactive, intelligent digital media within which to explore new forms of artistic expression, and new insights into how we sense, process and interact with the performing arts in the post/digital age. The lab culture is defined by improvised inquiry and exploration of distributed creativity through music and movement-based performance practices that are mediated by contexts such as the physical distribution of performers across internet-based networks, and distribution of creative decisions between human performers and "artificially creative" computational agents.
The Music Gallery, Toronto's Centre for Creative Music, promotes and presents innovation and experimentation in all forms of music, and encourages cross-pollination between genres, disciplines and audience. It was founded in 1976 by Peter Anson and Al Mattes of the free-improvising group, CCMC. Since its inception, the Music Gallery has been a publicly assisted centre for the creation, development and performance of art music in all genres.
The Wendy Michener Lecture, named in commemoration of the Canadian arts critic and journalist, was established at York University in 1986 to provide a forum for discussion of vital issues and developments in culture and the arts.