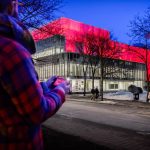 Media Architecture Summit
September 29 - October 1, 2016
TIFF Bell Lightbox
350 King Street West

Presented by York University, Sensorium: Centre for Digital Arts & Technologies, and the Media Architecture Institute, the Media Architecture Summit 2016 explores the role of urban screens, interactive media façades, and large-scale public projections in architecture, public art, civic engagement and urban renewal. Beyond mere decoration, civic spectacle and city branding, Media Architecture shapes our collective identity through digital place-making, 24-hour architecture, and reanimating public space. Held for the first time in North America, MAS 2016 brings together artists and designers, architects, scholars, and representatives from the cultural sector and industry presenting a range of projects including context aware illuminated spaces, architectural projection, animated building façades, and interactive installations inviting spontaneous public performance.
MAS 2016 welcomes attendees from around the world to the TIFF Bell Lightbox, home of the Toronto International Film Festival. MAS opens with an evening keynote from internationally acclaimed media artist,Rafael Lozano-Hemmer. The summit continues with a day of featured talks and panel discussions followed by an evening social hosted at InterAccess. The final day of the summit features workshops and an industry panel. MAS closes with a curated walk at Nuit Blanche Toronto, one of the world's largest outdoor dusk-to-dawn art events.
Register now with our Early Bird Rates!
PROGRAM HIGHLIGHTS
Featured talks: Philip Beesley (Experimental Sculptor/Architect, Canada), Jan Edler (Architect/Designer, Germany), Scott McQuire (Media Scholar, Australia), Dietrich Neumann (Urban Studies Scholar, USA)
Panel presentations and Workshops: Ali Momeni (New Media Artist, USA), Amahl Hazelton (Moment Factory, Canada), Di Mainstone (Artist/Researcher, UK), Veronika Pauser (Artist/Researcher, Austria), Isabelle Rousset (Derivative, Canada), Tanya Toft (Curator/Researcher, Denmark), Graham Wakefield (Researcher/Software Developer, Canada), Mason White & Lola Sheppard (Lateral Office, Canada), Nathan Whitford (Artist, Canada).
NUIT TALKS: The Media Architecture Summit is proud to partner with Nuit Blanche Toronto 2016. Nuit Talks offers two roundtables with presentations by artists presenting large-scale public installations at this year's event. Nuit Talks are FREE and open to the public.
Nuit Talks Roundtable #1
Director X (Music Video Director, Canada) and Floria Sigismondi (Director/Photographer, Italy),
moderated by Theresa Scandiffio (TIFF, Canada).
Nuit Talks Roundtable #2
David Rokeby (Installation Artist, Canada), Jean-Pierre Aubé (Artist/Programmer, Canada) and
Nicola Verlato (Painter/Sculptor, Italy), moderated by Janine Marchessault (Curator, Canada).
Registration:
Early Bird - General Admission: $75 ($90 after Sept 15)
Early Bird - Students and Underemployed: $35 ($50 after Sept 15)
Registration includes access to the keynote, featured talks, panels, workshops and events.
Registration + Full Schedule: www.mas2016.net
Stay Connected: Twitter / Facebook / Newsletter
info@mas2016.net