Artist Talk - DI MAINSTONE
Thursday, Nov 5th, 2015
12:00 - 1:30 PM
Transmedia Lab - ACW 103
Sponsored by the Digital Media Program and Sensorium.
Everyone is welcome.

The New York Times has featured Di Mainstone as one of the "new generation visionaries" of the international digital arts scene. A global ambassador for audio brand Sennheiser, Di Mainstone is artist in residence at Queen Mary University London where she collaborates with researchers from the Centre for Digital Music and Media Arts & Technology group, to develop new musical instruments that are inspired by the body, transforming physical movement into sound via digital technology.
For her most recent project, imagined on the Brooklyn Bridge, Human Harp is a clip-on instrument that transforms suspension bridges into giant harps. Now an international collaboration, the Human Harp team are exploring ways to record, process and release the frequencies of suspension cables, enabling pedestrians to literally "play the bridge".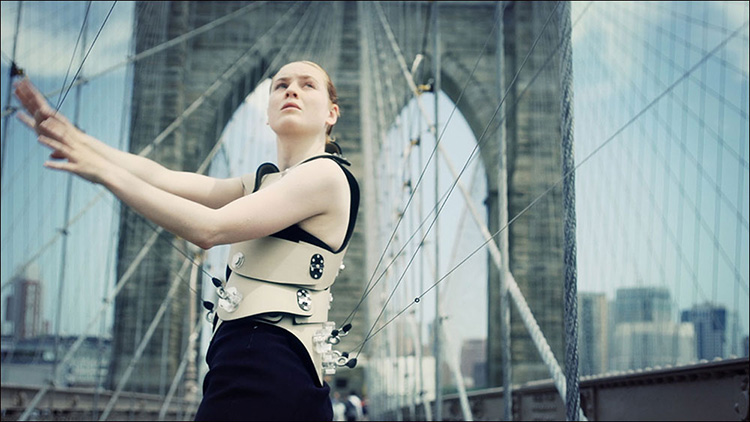 Di has been able to expand her research into sound and technology through international residencies at institutes such as Eyebeam Centre for Art and Technology in New York, XS Labs in Montreal, V2_Institute for the Unstable Media in Rotterdam and The Banff Centre in Canada. Gathering this knowledge she has created a pioneering method of building wearable sonic instruments on the body of dancers, which she has coined "body-centric design".
Di's sonic devices have been performed at home and abroad, most notably at The V&A, The Barbican, The National Portrait Gallery, Eyebeam NYC and the Swedish National Touring Theatre. Each happening is unique, revealing openings for audience and performer encounters. Her work has been featured in journals such as New York Times, Time Out, Dezeen and The Observer.
Read more about Di Mainstone <http://dimainstone.com> and Human Harp Project below including an interview with Shad on "q" on the CBC.
Human Harp - Playing Clifton Suspension Bridge
Human Harp - Playing the Brooklyn Bridge
The New Yorker - Di Mainstone Feature
CBC Radio "q" interview